Update 2023: Loud Market has taken to decision to seize activity of LoudMarket.com and other Loud Market pages and websites and effectively push Loud Market into a state of hibernation. Source
Exciting times ahead folks. LOUD Market just opened its portals for artists to join their NFT marketplace and get a verified status. NFT you say? Something you heard of but just don't know enough about? We'll let you know in this post how you can easily create, market and sell your first ever music NFT on LOUD Market.
About LOUD Market
$LOUD is the native token of LOUD Market on the Binance Smart Chain (BSC) and is designed to empower artists by easily allowing them to sell their work directly to fans. LOUD Market is turning your music into liquid assets through the power of NFT technology. (Source the official Litepaper).
If you're not happy with the revenue and want to take matters into your own hands, LOUD might be worth it for you. According to them, "experts estimate that artists only receive 14% of the total profit from the music industry". Through the LOUD Market NFT marketplace, (indie) artists can sell their work as NFTs at a fair price. You can market your music NFTs instantly and set your price in $LOUD.
This way you'll be able to get your fans to own one of your NFTs (cool right?) and subsequently holding crypto at the same time. You can either sell 1 unique NFT, or a series (e.g. 1000 at a set price) for a price you think is right for your music. Who knows? Your 50 $LOUD now might be worth $50 in due time… In the embed above, you can see the current $LOUD price. At press time, it's about $0,10 per $LOUD.
What do you need to get started?
Register to get verified on LOUD
Using this link, you can get early access to the marketplace. You can sign up with or without a wallet, but you'll need to do that either way, just best to do it right away. Find more info about your wallet below.
Wallet
You have to have a wallet to store your $LOUD tokens. You can either use MetaMask or Trust Wallet. They both have a mobile app, but MetaMask also comes with a Chrome or Firefox extension. We'll use Metamask in this example but if you want to know more about the differences, you can do so here.
As mentioned above, Metamask can be downloaded on Chrome and Firefox, or iOS and Android. Download the latest version here. Set it up and click Create a Wallet. Make sure to write down and backup the seed phrase as this is your phrase if you ever lost your password. Don't share it with anyone and don't lose it, as this can't be restored and will be permanently lost if you do lose it.
By default, it's set to Ethereum and we need to change that. Go to Settings – Networks and click Add Network to manually add the Binance Smart Chain. Enter the following data:
Network Name: Smart Chain
New RPC URL: https://bsc-dataseed.binance.org/
ChainID: 56
Symbol: BNB
Block Explorer URL: https://bscscan.com
Click 'save'.
You then want to add the $LOUD address to your wallet. Click 'Add Token' and enter this: 0x3d0e22387ddfe75d1aea9d7108a4392922740b96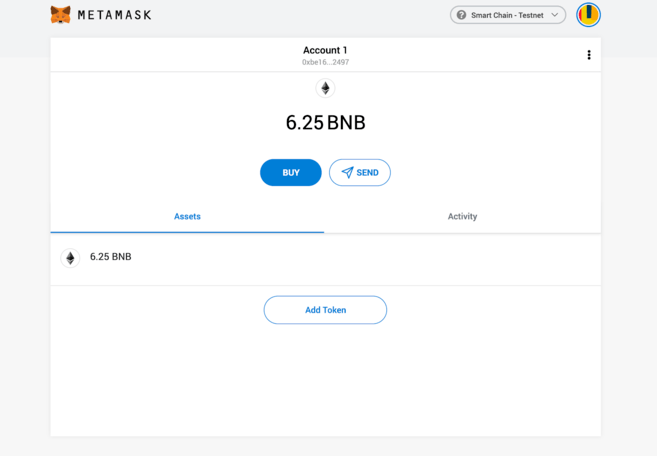 Find more info here.
By clicking the link above, you'll find more information on how to buy $LOUD, or how to transfer $LOUD to BNB, BUSD, USDC or any other token. LOUD also has its own built-in wallet to do all that.
What are NFTs?
NFT is short for Non-fungible token. Meaning that it's unique and can't be replaced with something else. For example, a dollar is fungible. You can trade one for another one and still have one dollar. You can't however, trade a one of a kind Rembrandt or Monet and get exactly the same thing, hence that's called non-fungible. How does this work with music? You can decide to create a limited supply of your next release and put it on the marketplace for your fans to buy.
Linkin Park cofounder Mike Shinoda became the first major-label artist to launch a single — the bouyant "Happy Endings," featuring iann dior and UPSAHL — via NFT auction. A 75-second clip of the song, accompanied by Shinoda's animation of artwork by contemporary artist Cain Caser and the musician himself, was sold in an edition of 10 on the online marketplace Zora. Here's number 10 of 10, which went for 4 WETH (around $6,600).

Source: inputmag.com
---
The links to LOUD in this article are referral links. By clicking the links and signing up as an artist, we get a small amount of $LOUD tokens and you are thereby supporting FTLOB.